SERVICES AND FACILITIES
All our services, opening times and capacity could be affected by the evolution of the pandemic derived from Covid-19.
For more information please call the following number: (+34) 971 135 345

The Hotel Ibersol Son Caliu Mar stands out in Mallorca for the qualities and services it offers to its customers throughout the season.


Among our services, we highlight the resort's spa, and the hotel's Kids Club (open during the holiday season) designed to the last detail for the entertainment of the little ones.

Free Wi-Fi at Reception, paid in common areas and rooms.
In our hotel we offer a wide schedule of "All inclusive" service. Our guests will be able to enjoy a wide assortment of drinks throughout the day from 07:30 a.m. to 11:30 p.m. (Outside these hours the customer will have to pay the amount of the drinks) in our different bars.
Enjoy our Spanish menu in Olé Olé Restaurant. This menu has been designed to offer you different flavours from diverse regions in Spain. Sample a variety of cuisine in a special, unique setting at a great price.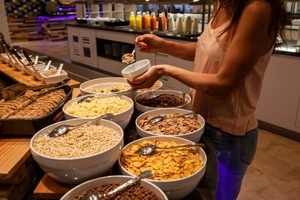 The hotel has different boards: Bed and breakfast, half board, full board and all inclusive boards. All meals are buffet style served in the hotel's main restaurant. It has a varied types of drinks to choose, which you can enjoy for free by booking the all-inclusive board. For all other boards, drinks will be paid at the moment in the same restaurant or bar where they are consumed.
In order to offer the widest range of services to our clients we offer an extensive, diverse buffet service.
Start the day in our magnificent restaurant where you can try a wide range of fresh, seasonal products at breakfast. This service is also available at lunch and dinner in a spacious, bright setting that offers fantastic views of the pools and gardens at the hotel.
During the dinner service, guests can enjoy fish and meat cooked via our incredible show cooking.
If you are looking for a corner to relax, enjoy good atmosphere and as sports, this is your place!
Have a beer, a drink or a drink while watching your favorite sport.
You will be able to enjoy a wide variety of massages and treatments (both facial and body) with high-quality products designed for your wellness and health.
Children have a kids club available. This service has indoor and outdoor games areas (the indoor area has an adapted floor), air-conditioning, a TV, children's furniture, a sleeping room, fully adapted bathrooms and more. Everything has been thought of to ensure your children are entertained and happy at our kids club. It offers extensive opening hours and a great team of staff.
This service is specialised for both adults and children, and it stands out due to its multi-cultural nature. Our staff will entertain you and make sure you have a great time with our activities, functions and shows during the day and at night. We have professional shows available three nights a week, including a flamenco show, a Brazilian show and magic. Shows are subject to modification and changes.
Fitness fanatics can use our excellent gymnasium to keep fit. We have anaerobic machines (static bikes, treadmill, steps, horizontal gym bench) to develop different muscle groups and a wide range of weights.
This is undoubtedly the perfect place to enjoy our drinks, spirits and slushies from 10 am to 11 pm. The Pool Bar is located near the outdoor swimming pool and central gardens. You can enjoy a refreshing drink in a holiday atmosphere, which is sure to help you really enjoy your stay at our hotel.